About Us
About
Blocker's
The Blocker family has been serving North Central Florida for decades. Good prices, excellent customer service, and an understanding of our clients' needs have contributed to our solid reputation and have helped us stay in business since 1924. With such a long-lasting commitment to service, you know that your experience with us will be a positive one.We bet our reputation on it!
1924
Blocker's Furniture was founded by J.E. Blocker when he purchased a local department store in 1924.
1940's
Nearly 20 years later, J.E. expanded his business when he and a partner bought an existing furniture store in the old downtown Ocala area.J.E.'s son, Jim, joined the business in 1952 and immediately started the company's transition from a rural route credit-based business to what Blocker's Furniture is today. Following a partner buyout in 1964 and J.E.'s death in 1966, Jim took the company's helm.
1970's
From 1966 to 1987, the company went through various transitions. Initially, the company continued functioning as a department store. That eventually became a woman's clothing store and three separate furniture operations: a furniture warehouse-type store, a mid-priced furniture store, and a high-end, design-oriented furniture store. Moving away from the low-priced furniture industry, Jim added 30,000 square feet of space to the high-end furniture store; bringing the square footage up to 43,500. This enabled Jim to ultimately close the warehouse store and consolidate the two remaining furniture stores into one building.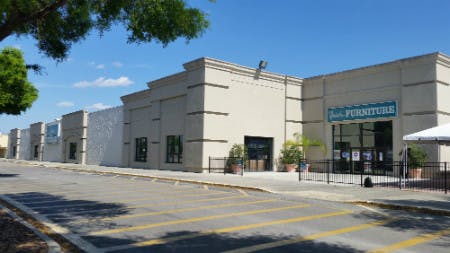 Today
With business booming and a continually increasing supply of furnishings to display, Blockers determined in 2000 that a larger location was necessary. A chance meeting with a longtime customer who happened to be a realtor enabled Blocker's Furniture to learn about an 80,000 square foot space - previously occupied by Wal-Mart. The Blockers immediately saw the opportunity, purchased the space, and now boast the largest showroom in Ocala.